Senior India batsman Cheteshwar Pujara stunned everyone on Thursday during the Indore Test when he skipped down the pitch and slogged off-spinner Nathan Lyon for a massive six over mid-wicket in the ongoing Border-Gavaskar Test match at the Holkar stadium.
Rohit Sharma gave a priceless reaction, smiling heartily to what was only the 16th six of Cheteshwar Pujara's 101-Test career so far.
Sixes from Cheteshwar Pujara are rare: he's only hit 16 sixes in 173 Test innings, 0 six in 5 ODI innings, and 4 sixes in 22 IPL knocks. There's a reason why he doesn't get picked up in the IPL auction, but it's the same reason that he's the rock of the Indian Test team and in Indore, helped India avoid an embarrassing defeat forcing the game into the third day.
https://twitter.com/KuchNahiUkhada/status/1631258241803116544?s=20
Anyway, here is a video compilation of most of Cheteshwar Pujara's sixes in his India and IPL career:
As a young batsman opening for RCB, Cheteshwar Pujara upper-cut KKR fast bowler Brett Lee for a stunning six, leaving even the great Brett Lee impressed. The ball flew over the slip and over the third-man boundary for a maximum.
You can watch the video at the end of the article
During the 2016 India-England Test series at home, Pujara was amongst the big runs. Brimming with confidence, he pulled left-arm spinner Zafar Ansari and leg-spinner Adil Rashid with utter disdain for eye-catching sixes.
In the 2019 home series against South Africa, the India number 3 was once again aiming for big runs, and in that process he put pressure on the Protea spinners, off-spinner Dane Piedt and left-arm spinner Senuran Muthusamy. Pujara is a great player of spin bowling who uses his feet superbly, as Piedt and Muthusamy when the batter rocked on the backfoot to send their deliveries over the leg-side boundary for maximums.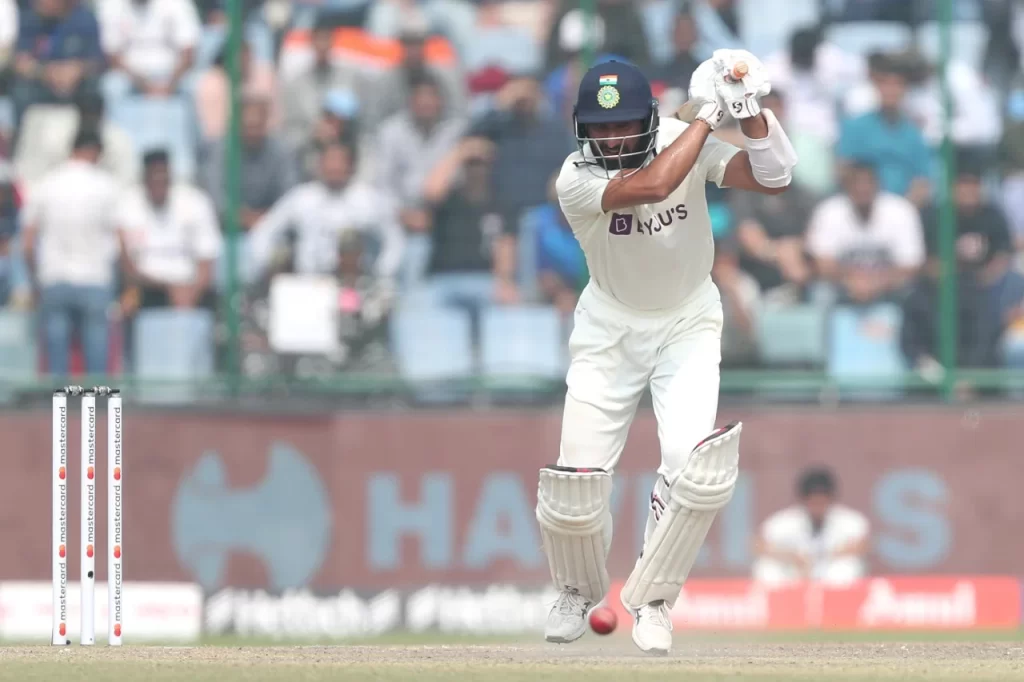 WATCH video below:
Lest you forget, Cheteshwar Pujara can be aggressive, as he proved against a pacer from RCB when he found himself batting in the death overs of an IPL game for KKR. Pujara gave himself plenty of room by moving on the leg-side and launched this seamer down the ground, over long-off for a powerful six.
Then in Australia, a country where he's enjoyed his greatest away success, Cheteshwar Pujara stood tall and hooked Josh Hazlewood for biggie over the fine leg fence.
The legendary Imran Tahir too. Yes, during the 2015 home series against South Africa, Cheteshwar Pujara smoked Imran Tahir for 2 sixes.
You can watch all these sixes in this video below: