Cheteshwar Pujara became only the 13th Indian player to feature in 100 Test matches when on Friday he took the field against Australia in Delhi in the second Test of the Border-Gavaskar Trophy 2023.
The 35-year-old was felicitated by batting legend Sunil Gavaskar, who gave Pujara a special cap on this significant personal milestone.
Pujara has been a rock in the middle-order for India for the past 13 years and is one of the most loved cricketers in the country, someone who is respected by the toughest of the opponents.
Here are 10 records of Cheteshwar Pujara in Test cricket:
In Indian cricket batting records:
7021 runs scored by Pujara is the eighth most for India in Test cricket. 19 hundreds by him is the seventh most for India in the format.
Dot balls count since his debut
Cheteshwar Pujara, who made his Test debut back in 2010, has faced 15,797 balls in his 99 Tests so far. Since his debut in 2010, only four batsmen have faced more deliveries in Test cricket than Pujara: Joe Root, Alastair Cook, Azhar Ali and Steve Smith.
With Pujara, it not the amount of runs he scores that's talked about as much as the time he spends on the crease, tiring out the bowlers, and making life easier for his batting partners.
Deliveries per dissmissal
In his 99-Test mach career so far, Pujara has been dismissed once every 99.4 deliveries (Staggering to say the least). That puts him in eighth position among the 65 players who have featured in at least 50 Tests since his debut. Steve Smith once again tops the charts with being dismissed every 114.6 balls.
Pujara helped India create history in Australia
India became the first Asian team in the history of Test cricket to win a Test series in Australia on their 2018/19 tour. Cheteshwar Pujara was at the forefront of that series win, famously tiring out the Australian bowlers with his defence and grit. Pujara made 521 runs in 4 Tests in that series, hitting three hundreds, but more crucially he batted out 1258 balls. He was deservedly awarded the Man of the Series award.
Only two Asian batsmen have ever scored more runs in a Test series in Australia than Pujara's 521 – Kohli (692 runs in 2014/15) and Dravid (619 runs in 2003/04) – and no Asian batsman has ever faced more balls in a Test series in Australia than Pujara's 1258 balls in 2018/19.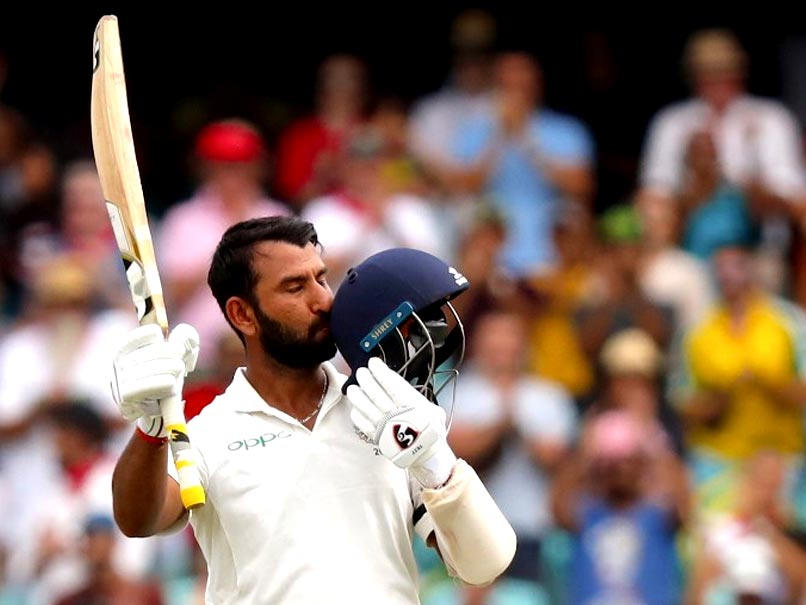 Pujara bats for the long run:
Pujara has notched up 16 double hundreds in his first-class career, for India and Saurashtra – the most by an Asian player and joint sixth most for any batter ever in first-class cricket.
Carrying the bat
Cheteshwar Pujara is one of the only four Indian batsmen to 'carry the bat through' a Test innings – against Sri Lanka in Colombo 2015.
Batting on all 5 days of a Test
This record is made by only quirk of top-order batting, and the opposition being bowled out in quick time.
Pujara is one of the three Indian players to bat on all five days of a single Test – he achieved this feat against Sri Lanka in Kolkata in 2017.
Cheteshwar 'Balls Faced' Pujara
525 balls faced by Pujara vs Australia in the 2017 Ranchi Test is the most by an Indian player in an innings in Test cricket. He went past Rahul Dravid's record of 495 balls faced in his knock of 270 against Pakistan in Rawalpindi in 2003/04.
An immovable object in Asia
56.90 – Pujara's average across 54 Tests in Asia is better than some of the prominent Asian batters of all time- Mahela Jayawardene (56.28), Sachin Tendulkar (56.24), Virat Kohli (56.00), Inzamam-ul-Haq (54.88), Zaheer Abbas (52.01), Rahul Dravid (51.18), Sunil Gavaskar (50.84), VVS Laxman (49.84).
One of the best batsman of spin in the past 13 years
Pujara averages 65.96 against spinners in his Test career so far. Since his debut, only the big three batters – Steve Smith, Joe Root and Kohli – have scored more runs against spin than him but he outperforms all three of them on average. Root averages 64.31, Smith 60.87, and Kohli 60.01 in comparison to 65.96 by Pujara.